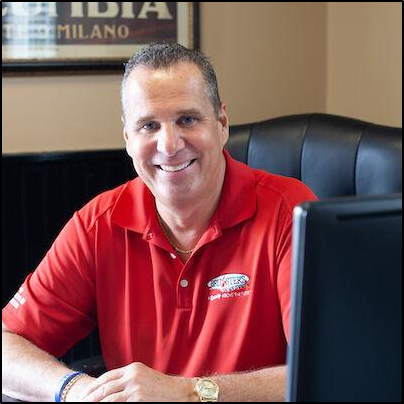 Jim Sahene, Bruster's CEO
By Laura Michaels
The Great Recession and its aftermath weren't kind to Bruster's Real Ice Cream as sales declines and stores closures hit the franchise. Adjustments the company made in subsequent years, however, began yielding sales and unit growth, and in 2019 Bruster's hit nearly $80 million in systemwide sales, surpassing its pre-recession performance.
On solid footing heading into 2020, the brand braced for the worst with the arrival of the COVID-19 pandemic, but this crisis is yielding far different results than the one more than a decade ago, said CEO Jim Sahene.
"We've had just tremendous performance," he said, as same-store sales growth is up 11 percent from 2019 and the nearly 200-unit brand has signed 19 new franchise agreements so far this year, many of them with existing operators. Sahene, unsurprisingly, attributes the brand's success through the pandemic to its franchisees.
"They do an outstanding job executing our brand standards," he said. "Marketing is useless if you can't execute at the store level.
"This is not an explosive growth category," he continued, an observation in line with Franchise Times' own Top 200+ data that shows eight of 13 treat franchises had flat or declining sales in 2018 (Bruster's was up 2.9 percent). "We're stealing market share … we've been able to steal a lot of customers from other brands over the summer."
The Bruster's model itself, which features walk-up windows at every location and drive-thrus at more than half of its units, is another advantage as customer traffic has stayed steady and even increased at some stores as consumers overall opted choose restaurants that don't require an indoor visit.
The pandemic "spooked everyone," said Sahene, and consumers returned to brands with convenient service options and that they had confidence in. "That really propelled us during this time," he said.
Nearly 70 Bruster's locations offer home delivery of the brand's ice cream treats, with more franchisees adding third-party delivery to their operations.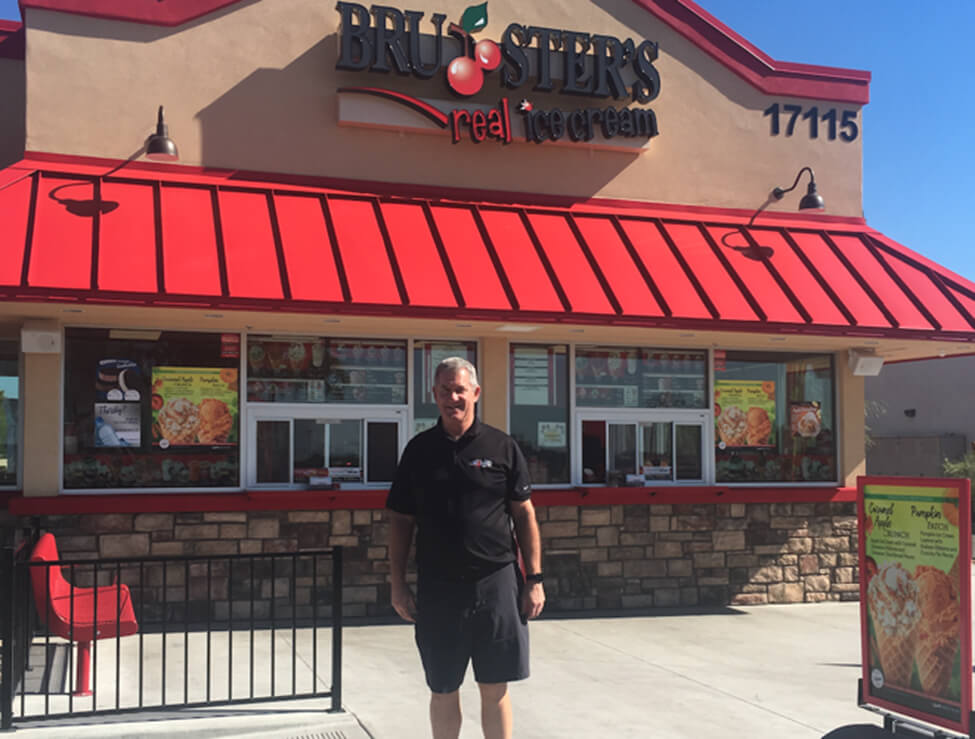 Dan Tarkoff (pictured at above), a franchisee with one store open in Glendale, Arizona, and two more on tap, hasn't launched delivery yet but sees the potential as his call-ahead orders have increased in recent months. During the pandemic he's remained focused on executing at the counter and the drive-thru after he chose to close his patio because of the extra staff time it would take to clean every table after every customer, most of whom only sit for 10 or 15 minutes.
"Customers actually just started to tailgate," said Tarkoff, "they moved the patio to the parking lot. They'd bring their lawn chairs" and have small gatherings.
Sales in 2020 started up 27 percent year over year, and while there was a slight dip during the early weeks of the pandemic, people quickly grew tired of staying home "and sales started to boom," said Tarkoff. Sales of pints, quarts and half gallons also spiked, something Sahene said happened across the system as customers spent more to stock up their at-home ice cream stash.
"I think Bruster's was built for this," said Tarkoff.
The total cost for a freestanding Bruster's unit ranges from $510,000 to $1,320,000, while the investment range for an endcap unit is $231,200 to $594,500. The average unit volume for franchise and company stores in 2019 was $468,138, according to Bruster's franchise disclosure document.
Source: Franchise Times, October 2020