Serving 'joy in a cone', local Bruster's ranks high
By: DON SERGENT
Bowling Green Daily News - August 2022
It would take one big waffle cone to contain the sales volume that Bowling Green's Bruster's Ice Cream store is racking up.
Selling such delicacies as banana peanut butter ripple, black raspberry chocolate chunk and even the occasional plain vanilla, the Bruster's on busy Scottsville Road has been moving up the leaderboard among the franchise's 180 U.S. locations.
In fact, workers at the local Bruster's scooped enough ice cream and sold enough cakes, pies and specialty items to rank fourth in the country last month.
The achievement put the local store in some fast company. A Phoenix, Ariz., store that does more than $2 million in sales annually ranked No. 1, followed by a Gaithersburg, Md., store in suburban Washington, D.C., and a Bruster's in New York.
That's one cool achievement, and something that local franchise owner Robert Alford said he has been building toward since he bought the Bowling Green Bruster's from the Stuart Kirby family in 2015.
"The best we had done before was seventh one month last year," Alford said as he watched a steady stream of cars flow through his store's drive-through Wednesday. "My first thought was that I feel blessed, and I feel like we're doing something right."
One of the things Alford and his mostly-teenage crew are doing right can be seen in the constant flow of cones, shakes and sundaes going out that drive-thru window.
"The (COVID-19) pandemic changed everything," Alford said. "The first couple of months we were way down, but then people started driving through.
"Our patio was closed, but people started getting out their lawn chairs and tailgating. We did OK."
The increased drive-through business, combined with a new mobile app, a Bruster's truck that can set up at remote locations and an increase in sales of cakes and pies have allowed Alford's store to do better than OK, as the No. 4 ranking attests.
"We have several franchises that are high performers, but he (Alford) is among the top ones," said Jennie Brinker, vice president of marketing for Pennsylvania-based Bruster's. "He's a leader in his store, he mentors his employees and he upholds our brand."
The proof is in that sales volume, something that Alford said has been increasing since he bought the franchise. "The Kirbys had a good business and built a good brand here," Alford said. "I'm standing on their shoulders."
Alford, though, has taken that well-established brand and built on it. He estimates that sales volume at the store is up about 80% from when he bought it. Not bad for a guy who had never worked in food service.
Alford, 63, had spent most of his career in real estate and brought that business savvy to Bruster's.
"We're in the people business," he said. "We just happen to sell ice cream."
To make the career change, Alford first had to convince his wife that buying an ice cream franchise was a good idea.
A visit to the store was enough.
"She watched the customers enjoying their ice cream," Alford recalled, "and she said, 'It's like joy in a cone.' "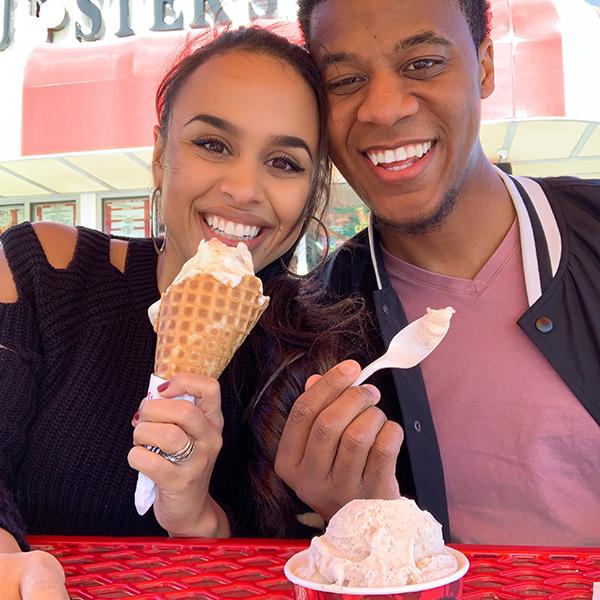 Small wonder, then, that Alford is now president of Joy In A Cone Inc., doing business as Bruster's of Bowling Green.
Although he brought no food service background to the store, Alford leaned on his real estate background and his long history as a local football official and baseball umpire to build his customer base.
"People remember you from that community involvement," he said.
A self-described "people person," Alford has used that skill to build a reliable staff of more than 30, made up largely of local high school or college students.
"I have kids who've worked for me for five or six years," he said. "I treat 'em all like my own kids."
Like most restaurants these days, Alford is struggling to find workers and could use a few more to handle the continuing sales growth that he attributes to a few simple factors.
"It's great ice cream, and we try to treat everybody fairly," he said. "We have a great location and are good at getting people in and out. Everybody knows where we are."
If Bruster's Real Ice Cream sounds like the kind of cool opportunity you have been looking for, get the scoop about franchising opportunities by calling (724) 312-8739 for franchise information.