By: Angela Woolsey
FFX Now – Fairfax County local news – June 24, 2022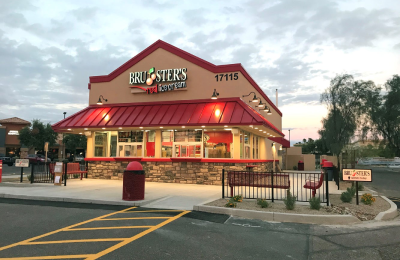 A new ice cream shop is coming to the Town of Vienna, promising a sweet respite for residents and visitors trekking along Maple Avenue.
The Pennsylvania-based company Bruster's Real Ice Cream has applied for a permit to renovate the retail space at 237 Maple Avenue in Glyndon Plaza, according to Fairfax County records.
Processed on May 13, the permit description states that the store will consist of an ice cream preparation kitchen and walk-up windows for customers to place and pick up their orders, but there won't be indoor seating for patrons.
The set-up will be similar to Bruster's Fairfax City franchise, which opened in May 2021.
Some Tysons area residents may be familiar with the business from its location on Avenir Place near the Dunn Loring-Merrifield Metro station. That store was open from roughly 2015 to 2020, when the franchisee opted not to renew their lease, a Bruster's public relations representative told FFXnow.
The Vienna store will occupy a 1,300-square-foot corner suite in Glyndon Plaza that had been filled by Ocean Cleaners since 1995. The dry-cleaning business has permanently closed, according to its Yelp page.
"The demographics and the location of this new site present a great opportunity to further build the brand connection in the community," Bruster's said by email.
Based in Bridgewater, Pennsylvania, Bruster's opened its first store in 1989 and started franchising in 1993. It now has over 200 independently owned locations across 22 states, Guyana and South Korea, according to its website.
The company touts its "old-fashioned" approach to making ice cream, developed by founder Bruce Reed, and the variety of flavors it has in rotation, with each shop offering at least 24 options every day.
"Our handcrafted recipes always start with a proprietary homestyle mix delivered fresh from our own dairy to each ice cream shop," Bruster's said. "We serve premium flavors and artisan desserts made right in the store where they are served, including crunchy handmade waffle cones, customized sundaes, candy-filled blasts and thick milkshakes."
The store is expected to open late in the third quarter of 2022, which ends on Sept. 30. The company confirmed that means the opening will be sometime this fall.
If Bruster's Real Ice Cream sounds like the kind of cool opportunity you have been looking for, get the scoop about franchising opportunities by calling (724) 312-8739 for franchise information.