Bruster's has been making ice cream lovers happy one scoop at a time for three decades. Our objective is simple – provide more ice cream to more people in more places. We are adding new franchisee across the country that share our standard of excellence and passion for people. For example, our franchisees:
Deliver superior customer service
Offer the best quality ice cream to their guests
Follow the Bruster's comprehensive operating system
Mentor and lead a team of young adults
Create a gathering place for families and friends
Have fun while building a valuable business
If this sounds like you, let's see if Bruster's is a good fit for your future!
Bruster's Franchise
 

Candidate

 

Profile

Net Worth $500,000-$800,000, based on store type
Liquid Capital $125,000-$350,000, based on store type
Prefer college education or higher
35 to 65 years old
Business, marketing and/or financial experience
Single or multi-unit operator
Ambitious
Driven to succeed
Works hard, plays hard
Enthusiastic, upbeat attitude
Leadership by example
Tough, but fair
Respect and empathy for others
Enjoys mentoring youth, seeking control of destiny
Leverage their experience
Control of destiny
Pride in achievements
Develop a legacy business
Collaboration and support
Achieve lifestyle and financial expectations
Professional satisfaction; Increased flexibility
Family time
Establish sustainable growth
From a franchise opportunity:
Proven systems
Comprehensive, enthusiastic support
Brand strength and protection
Multi revenue streams
Return commensurate with effort
Proactive business enhancements
Community connection
Advanced business tools and technology
Developing staff/culture
Dedicated to quality and service
Builds relationships
Diligent, ambitious, persistent, patient
Can identify and capitalize on opportunities
Honesty and integrity
Positive outlook, upbeat
Connected to community
Collaborative
Strong work ethic
Helpful Background / Experience:
Business management
Financial/Marketing acumen
Well-capitalized
Employee development and mentoring
Customer service commitment
Strong communication
Analytical, organized
Solid decision-making skills
Handles stress
Demonstrated leadership skills
Connect With Your Community!
Shaping

 

Lives, Preparing For The

 

Future

The majority of our franchisees' employees are young adults. Many have never had a job before. Our franchisees have a special opportunity to help shape the values of the young people working for them by instilling accountability and responsibility – skills that will serve them and your community throughout their lives.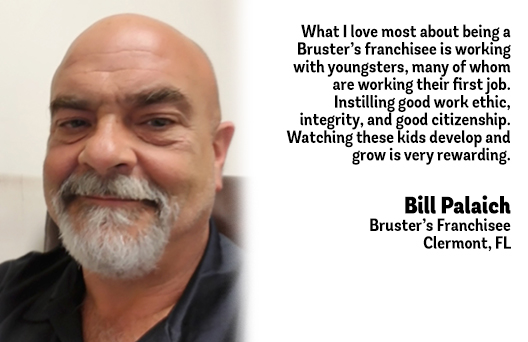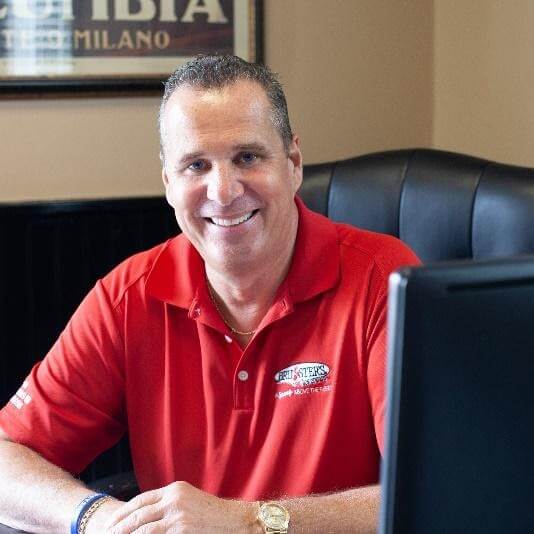 Bruster's Is One 
Sweet
 Business
…Learn Why From Our CEO!
If you are curious about living the ice cream dream, there is no person better qualified to give you insight.
Please join us for a special 1-hour conference call with Jim Sahene, Bruster's CEO.
Register for one of our monthly CEO calls and we will send you the details!
No Obligation… Just information!