By Terri Hall
When banker Ed Miller was ready to make a career change, his choice was a million miles from banking but only a few blocks from his home in Atlanta, Georgia. "My wife and I were big fans of a local ice cream shop called Bruster's Real Ice Cream," he said, because their product was so rich and delicious. So when I thought about purchasing a business, I did some research on the Bruster's concept."
Bruce Reed, the founder of the franchise and the "Bruce" in Bruster's, started the business in 1989 with a real passion for delivering an exceptional customer experience. The ice cream is actually made fresh onsite daily. Customers choose from an extensive menu of delicious flavors and premium mix-ins. They also offer customized cakes and pies, perfect for those special occasions. Ed Miller bought his first unit in 2002 and is now celebrating 16 years in the ice cream business.
"We opened our first unit on December 20th," said Ed. "It is not the best season for ice cream, and we were concerned that the holidays would overshadow a grand opening of a little ice cream store. So, it was extremely gratifying to see lines out the door, all people waiting to enjoy Bruster's many delicious flavors." Ed credits both his wife and sister for pitching in during the early years. "They were invaluable as we learned the many aspects of the new business. We divided and conquered. It was a lot of work but worth it as the store was an overwhelming success."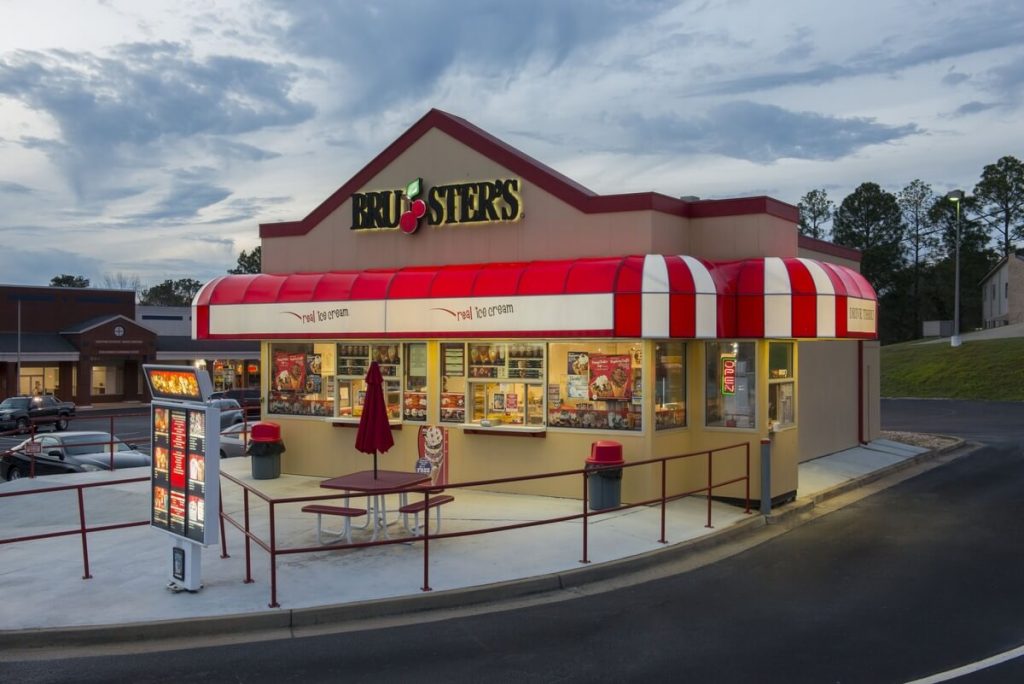 In 2004, Ed invested in his second Bruster's (both are in Columbus, GA). The best part of selling ice cream, he says, is that the customers walk up to the counter happy and leave the store happy. The next best thing is the support he receives from Bruster's management department. "From the beginning," Ed commented, "the franchisor was very relationship-oriented. They helped us with everything, from finding the right site, to hiring employees, to running the day-to-day operations. After 16 years, we don't need a lot of help, but this was my first business ownership experience and Bruster's was there for me, every step of the way."
Franchisees of Bruster's have options. There are two standard build-out options for the brick and mortar locations (end-cap and free-standing), and over time franchisees have the option to add mobile trailers and concession carts to compliment your store's business. Ed has a full-service store on a military base, and a couple of ice cream carts that is available for community events, company picnics, and festivals. "Our business is fairly mobile," he said. "We are involved in local school activities. We serve ice cream for Teacher Appreciation Day, and we run fundraisers for schools where teachers are guest scoopers and the schools get 25% of the sales. Another fun fundraising idea is Bruster's Blue Pop Italian Ice. Teachers take orders and Bruster's brings the pre-scooped cups to the school. Students enjoy the sweet treat while the profits go to the school."
Community involvement is important to a small business owner and Ed has found that joining organizations such as the local chamber of commerce and Kiwanians was helpful in making important contacts. A contract with the Columbus Civic Center to cater events is just one way community contacts help Ed's bottom line. His wife, who has worked in marketing, knows many of the local DJs and they utilize radio to promote their many events.
Diversification
As profits from ice cream vary according to the season, Ed decided to diversity his portfolio by adding Wingstop® to his foodservice business. "Ice cream is a spring and summer product, while wings are a fall and winter item," said Ed, "which is why they are good compliments. Both businesses are simple to run have excellent name recognition, which makes my job easier."
Bruster's, headquartered in Bridgewater, Pennsylvania, has about nearly 200 independently owned locations in 20 states, Guyana and South Korea. Most of the US locations are east of the Mississippi, but new stores were recently opened in Texas (San Antonio, Dallas and Austin), Gilbert, Arizona, and Huntington Beach, California. The Millers selected the franchise as their first business purchase not only because of the quality of the product but also because of the product's popularity. To qualify as a franchisee, a potential owner needs a modest initial net worth minimum of $250K with $100K liquidity. The franchise fee is $30,000, with a 50% discount for veterans.
"We can run a Bruster's unit during the peak season with about 15 part-time employees," said Ed. "Bruster's is a great place to work because the hours are reasonable, there are no dangerous grills or fryers, and our employees can balance work with high school. Many come back to us during summer vacations after they go off to college." Not every teen gets ice cream every day at work but those who work at Bruster's certainly do. "Ice cream is nice way to reward our employees," commented Ed, "but it is also important that they taste all of the flavors so that they can make recommendations to customers."
Once the businesses were running smoothly, Ed was able to put managers in charge of day-to-day operations, so his constant presence was no longer needed. "As a former banker, I do my own accounting," said Ed. "But a great deal of my focus can now be on growing the operations. I do have pretty full days, but it is pleasant work. I drive to each store once or twice a day to check in and collect the money, and then go to the bank to make deposits. Then, there are frequent catering events in the evenings. The differences between the corporate life and business ownership are enormous. The work I do now is for myself and my family, and it is so satisfying to be successful in this endeavor."
With so much hands-on help from the franchise development team at Bruster's, even someone new to entrepreneurship and food services can find great financial success. Ed Miller, who is now a multi-unit owner of Bruster's, said that he thinks of Bruster's like family. "We make the product on-site, which gives us great control over the quality of product we are able to offer our customers. I truly feel we offer the best ice cream and I'm sure I made the right decision when I joined the Bruster's team 16 years ago."
Source: Nations Restaurant News, February 2019